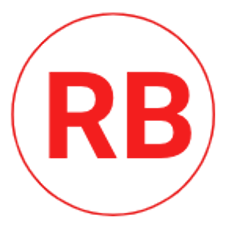 The DRAMA of LOCKDOWNS
Perspective and Reflection During Lockdown by Roman Berry
LIGHTS UP!
Centre Stage: Covid 19 and Global Pandemic! Covid Cases keep going up. The world pressed PAUSE. People are dying. Many, hospitalised. High numbers get ill. Even the young are not immune to it. Lockdowns have been introduced to try and repress it. Virus mutate. Becomes aggressive. Can 'fleetingly' spread. More lockdowns. Limited activity. Strict rules.
Good news. Some HOPE. Spotlight – VACCINE. Purpose: Protection + Prevention. The signs are promising. It's been a DRAMATIC 20 months.
The pandemic ultimately became a circuit breaker on the many rituals I had as a THEATRE MAKER. The countless meetings and Café catch ups with other creatives discussing all things theatre – stopped. Exciting moments when you were in a rehearsal space, moving and moulding a new piece of work with a group of like-minded 'makers' – stopped. That time where you line up in a foyer, packed like sardines, chatting sometimes with a glass of bubbly and a program in hand – stopped. The industry – stopped. Covid 19 – the catalyst.
AND – vulnerability within the sector was exposed. Job losses. Despondency. Uncertainty. Lack of financial support from the government. You only have to go to Twitter verse and read phrases, like 'time to quit' from frustrated professionals in the industry. Some got stuck in desperate situations. Poverty exposed. Enormous pressure on people's wellbeing and mental health.
YET, Theatre Makers, performers, creatives, musicians, designers, theatre technicians, producers and artists are RESILIENT. Some did pivot. Zoom and online creativity soared. Through technology, the industry kept the 'ghost light' on. And, learning how to go forward with our lives during this pandemic is the goal. This has made me wonder what the new world of post pandemic 'theatre making' or 'theatre experience' will look like. Why am I even talking about 'theatre' in a time like this? What can the world of theatre contribute in a global pandemic? Is theatre still relevant when we eventually reopen?
YES. Theatre world has survived plagues, wars and as creatives and theatre makers, we certainly know how to survive a 'financial crisis'. YES, Theatre & The Arts is important especially, at a time like this.
The ARTS is crucial to our lives. We experience real-life drama in the form of our own personal experiences. During the recent lockdowns and stay at home orders, we have been inundated with debates, conflicting opinions, and epic press conferences. We have been glued in our home, streaming digital content, and bonded to our portable electronic devises. Confronting our fears and biases through fictional stories and narratives. During Lockdown, we lived our lives through the 'what ifs', through glorious documentaries, travelogues, epic films, and TV series. The world is full of drama and is happening now.
But it was in my early morning ritual of aiming to achieve 10,000 steps a day, that I had a 'light bulb' moment. There is a simpler concept of theatre and the arts at play. As a theatre maker and a Director, I was awakened to the most rudimentary essence of the theatre experience.
I have become an active audience. Soaking my surroundings. Impromptu stories with dramatic events unfolds (activities from nature, to people with their furry friend, out and about). There's also the emotional and physical reaction from it all (not to mention the release of the wonderful serotonin from sweating it out). THEATRE is all around us.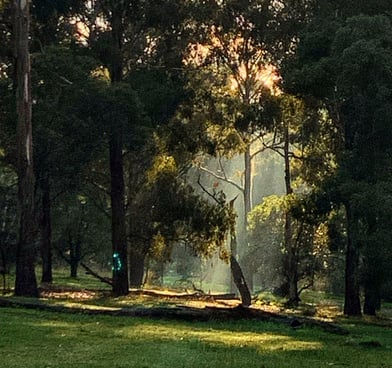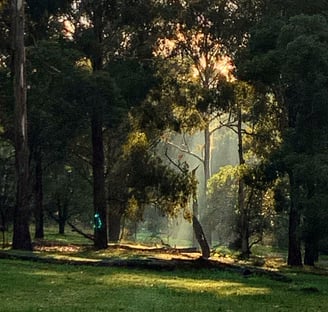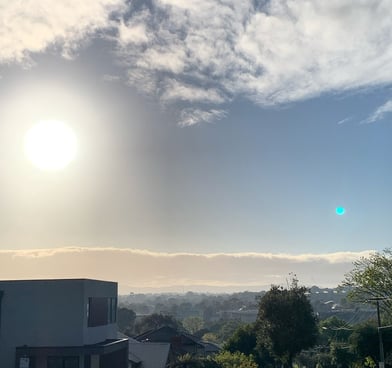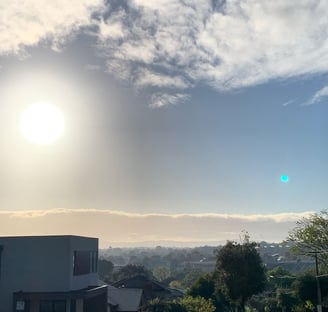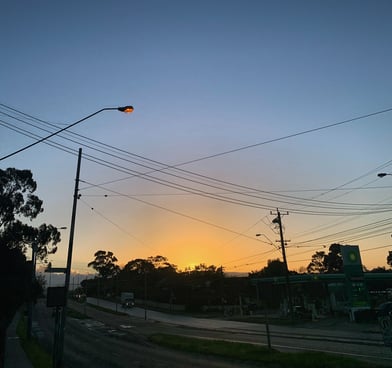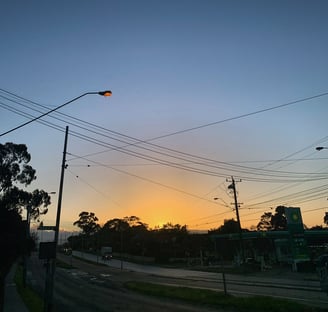 As an active audience – I choose to leave home in anticipation to the theatre world unfolding. There's something about the SUNRISE with its orange hues, peering through ominous clouds – like a stage coming to life. Like an orchestra pit, the different instruments of birds chirping, singing in harmony with the rustling of the leaves and the swaying of trees, creates the soundscape, as a prelude to a show. There's excitement! The action begins. People speaking to their loyal 'furry friends' and graceful flowing movement from a 'capped' number of Tai Chi practitioners. Stage left, physical tension from a group of sweaty 'outdoor' gym junkies, being pushed to a hilt by a 'director' of some sort.
I even braved it and challenged myself to self tape a weekly solo 'freestyle dance' activity, and yes, done outdoors, early hours of the morning. There's also audience participation. I played as a secret agent once or twice. Just to see who has been wearing their mask and if people are gathering in right numbers. I have a part to play. Badly, I may add – felt guilty spying on my fellow human beings.
I did report an unkempt area in the park, where 'law breakers' left behind, an array of empty glass bottles (some were broken on the ground) and take away fast food boxes, next to a playground. Reported it to the local authorities for safety reasons. YES, I played my part.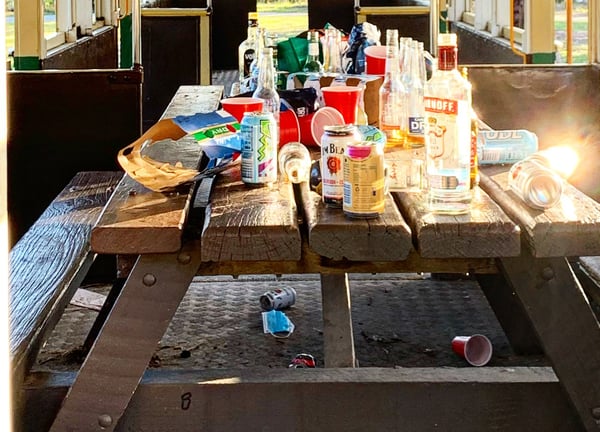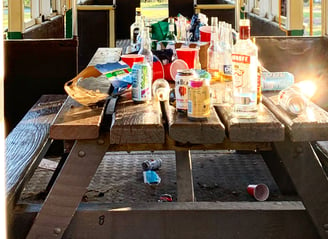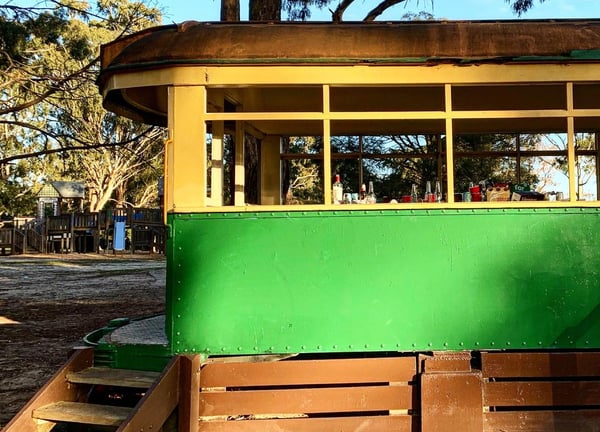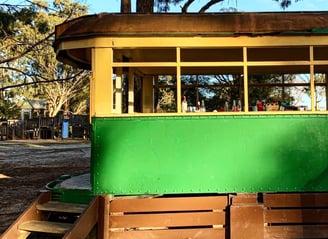 I looked forward to what was in store for me the minute I get up. What could be waiting around the corner. More to discover. Different dramatic moments on offer. Even waiting for the takeaway latte, supporting the local cafes, has been an eye opener. Baristas take centre stage as they create that perfect cup. Then there's this sense of anticipation, like waiting in the theatre foyer, as you do small talk (usually about the number of Covid Cases). Then you nod your head to say hello. Smile under your mask, patiently waiting. We all line up, socially distanced, outside. Only this time, no 'program' or 'bubbly' on hand, but mobile phones to tend to – but in that moment, instils a sense of community.
Even in these times, there is camaraderie in a coffee cup.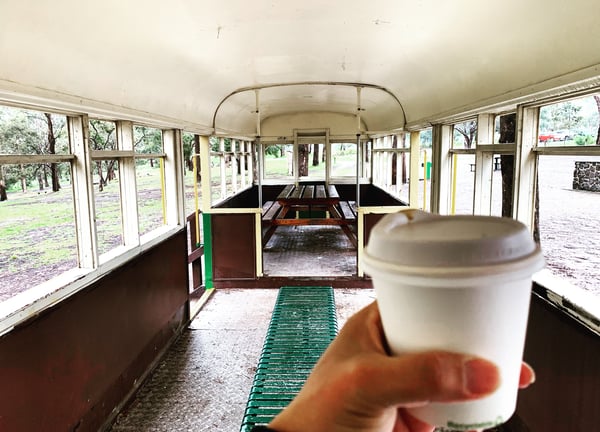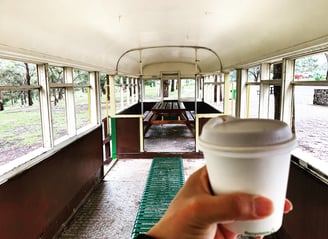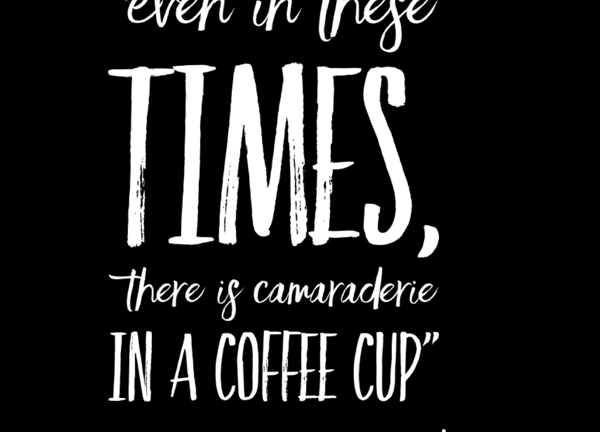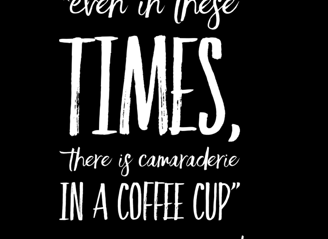 So, to go back to the question:
What can the 'world of theatre' deliver during lockdowns and a global pandemic? Is theatre still relevant when we eventually reopen?
Since that eureka moment halfway through the latest Melbourne lockdown, I have started to embrace and look out for different signposts. Revisiting basics of storytelling, from early childhood myths, researching puppetry skills, to taking some inspiration from Augusto Boal and many more theatre practitioners. So many exciting possibilities of how theatre would be like and experienced when we finally reopen. And they involve the simplest form of audience engagement, having a sense of community and above all, keeping the imagination and the passion of the ARTS alive.
There's DRAMA everywhere. Now – let's do our part to safely reopen our industry.
Till next time.